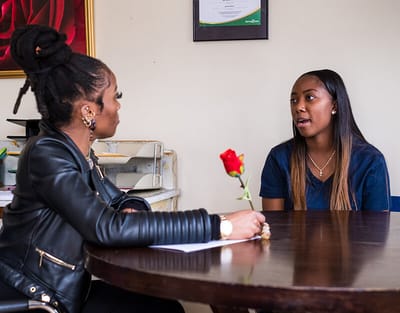 Our employees have many years of working with countless families, that has taught us how to provide personalized service and how to vet candidates.
Divine Angels Home Care has applied our astute observation skills to employing caregivers to be part of the team. We value caregivers who are able to take on multiple roles, who can form a strong relationship with our clients, and that share our values. The values of our company ultimately enable caregivers to connect with our clients and build strong relationships with them.
Caregivers work with the support of our entire agency because we believe that an important part of taking care of others is taking care of our own.
Our caregivers at Divine Angels Home Care are chosen based on their qualifications, experience and ability to positively impact the lives of our clients.
A Divine Angels caregiver fills a multitude of roles. They are companions, personal assistants, nutritionally aware cooks, exercise partners, reading partners, and a good friend.
Each caregiver is carefully screened. We hire select caregivers that meet our qualifications and share the same values we have as a company.
Caregiver Screening Process
We invite caregivers to meet with us that have a minimum of two years of professional caregiving experience on their resume.
They are given a skill and personality assessment.
We perform a reference check.
We ensure CPR training certification is valid.
We verify each CNA's certification with the State of Georgia.
An extensive background check is performed, including fingerprinting with GCHEX.
Each employee attends our orientation, where we review our team player expectations.
Qualities and Values of Caregivers
Empathy
Patience
Compassion
Respectful
Communicative
Strive to be the best everyday
Upbeat and positive
Passionate about helping others
Astute observation skills
Caregivers are solution oriented, problem solvers and can handle anything ranging from chronic diseases to helping out with the smaller tasks of your everyday routine. No one should settle for who is available, when you can get the perfect match.
Send your resume to Info@dahcga.com and we will reach out to you if you are fit.
We are available twenty-four (24) hours, seven (7) days a week.
Divine Angels is a licensed private home care service agency dedicated to providing quality, compassionate and supportive home health care in Georgia. These services, performed with dignity and respect, will be available to individuals of all ages, regardless of race, creed, sex, sexual orientation, disability or national origin. Divine Angels also supports caregiver staff by providing continuing education opportunities for continuing professional growth.